Busy as a Bee!
Sorry for the long lapse of no entries, but since March, Hubby lost and found a job, I lost and found a job and Valorie had almost 5 months of being a stay home baby. Finances also got so tight that we lost our internet access for a bit. It was worth it though, because I got to be at home to see Valorie's first steps at a late 15.5 months. She also has gotten in a mouth full of teeth. Currently she has one molar and 4 front teeth. She is working on 2 more front teeth and 2 more molars. She gets mighty grumpy when those molars break thru the gums!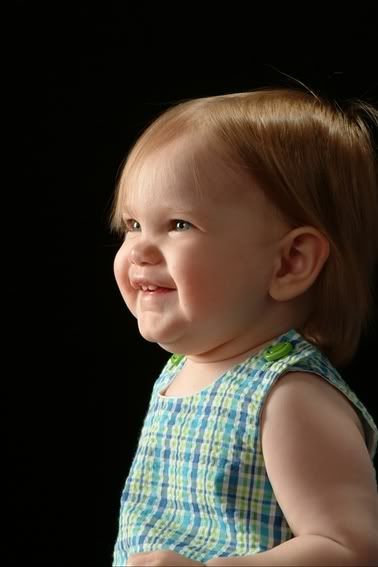 On the knitting front - being stay home mommy for a while did allow me to get most of a baby's blanket done. I'll post a shot of it soon. I did finish my Dad's green socks and knitted a nice pair of cherry hill socks in a cabled pattern. Colors were browns, blacks, and turquiose - loved the yarn! I knit them for me, but with money so tight, I wound up giving them to my mother in law for her birthday. She also just had gastric by pass surgery this month. She is doing well and has already lost 20 lbs. My mother also had surgery in June - knee replacement. She is also doing great and is walking without a cane, these days. It's amazing how quickly the body can bounce back!
I'm still working on the burgundy lace moebius scarf. It's about 3/4 done. I'll post pics of it, soon too. Promise! In the meantime - here is a recent shot of miss Val!